Join us for our annual ProHealing Festival, a celebration of hope, community and the many different pathways to healing. The event is an opportunity to move, create, relax and connect through musical performances, yoga, meditation, sound healing, art workshops, family friendly activities and inspirational talks.
2021 ProHealing festival: September 10th-12th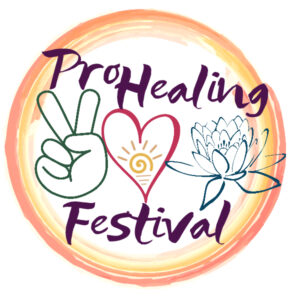 This year the ProHealing Festival will be offered virtually September 10-12th, 2021. Visit this page or follow us on social media for updates, highlights and the full festival schedule.
You will receive event links by email each morning of the Festival.
Please check your junk folder – if you need immediate access to links and did not receive them via email please call (860) – 296 – 2338 for assistance. 
---


---
Schedule of Events
Register above to get event links!
Friday, September 10th
10-11am, Beyond the Story
12-1pm, Art Workshop
2-3pm, I am Joyfully Whole Meditation and Movement
Friday Night Hang Out: A Night of Live Music
6:15-6:45pm – HannaH's Field
7:00-7:30pm -Balkun Brothers
7:45-8:15pm – Anne Gogh
8:30-9:00pm – DJ KOTIC
---
Saturday, September 11th
Saturday Morning Movement
9:30-11am – Valley Qigong
9:30-10:30am – Yoga
11:30-12:30pm – Bilingual Yoga
12:30-1:30pm – Chair Yoga
Saturday Afternoon Speakers & Poets
12:30-1:30pm Every Kinda Lady Poetry in Monologues, The Art of Releasing Narratives Poetically
2-2:30 – The Poet Amin
6-7pm – Mind Power Hour: A Practical Guide to our Divine Mind
7:15-8:15 – The Power of A Story
---
Sunday, September 12th
Morning Healing Arts Space
10:30-10:50 – Intro & Drumming
10:50-11:20 – Metta Meditation
11:30-12 – Mindful Movement
12:10-12:40 – Tapping
12:50-1:20 – Reiki
1:30-2 – Self Massage
2:10-2:40 – Sound Healing
Sunday Afternoon Sessions
3-3:30 – Family Yoga
3:30-4:30 Qigong in Nature