What is Qigong?
Qigong is a 4,000-year-old practice from China which helps your body to heal itself naturally. Qigong can provide relief from anxiety, depression, and chronic fatigue. It can also improve balance and endurance. The practice involves gentle movement, breathing techniques, and focused intention. According to Chinese medicine, Qigong clears the mind and circulates the energy of the body.
According to Taoist, Buddhist, and Confucian philosophy, qigong allows access to higher realms of awareness, awakens one's "true nature", and helps develop human potential.
Qigong practice typically involves moving meditation, coordinating slow flowing movement, deep rhythmic breathing, and calm meditative state of mind. Qigong is now practiced throughout China and worldwide for recreation, exercise and relaxation, preventive medicine and self-healing, alternative medicine, meditation and self-cultivation, and training for martial arts.
Research concerning qigong has been conducted for a wide range of medical conditions, including hypertension, pain, and cancer treatment.
What is Valley Qigong?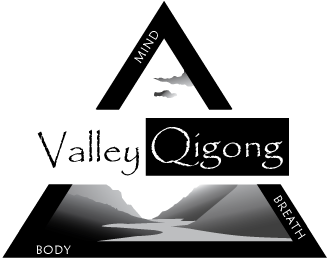 Valley Qigong is a subcommunity of Toivo. Inspired by the qigong classes and workshops offered by Toivo founder Deron Drumm, individuals came together to build an intentional community around the practice of qigong. Valley Qigong classes are offered multiple times a week at Toivo. Weekly tea ceremonies serve as an opportunity for connection amongst like-minded people. Additional events like workshops and potlucks are offered throughout the year.
Why is it called Valley Qigong?
Valleys represent fertility, abundance, generosity and goodness. In a valley everything is received and nurtured with grace. On mountain peaks we find rock, ice and barrenness. In valleys we find trees, gardens and other magnificent natural life. The beautiful image of a valley is distinctively grounded yet abundant. Valleys symbolize connectivity and receptivity – the ability to hear and receive. From this position, we can learn to listen intently, remain humble and respond thoughtfully.
As Wayne Dyer has eloquently stated, "Let the river of life flow through you. As a valley beneath heaven, you're a fertile place of grace where everything is received and allowed. You might see it as the lowest area in the spectrum of the 10,000 things, or as the point where you can see all things flowing above you. In this place of humility, the constant virtue of the Tao will never fade away. For me, this means living from radical humility. So get down (if you can) to the eye level of a small child. Looking up, see if 'original qualities' are more visible. Be like the valley under heaven, ready to embrace and tend the seeds that blow your way. Instead of striving to see yourself as superior to others, perhaps choose the self-image of a valley. From this grounded, fertile, and receptive position, be willing to hear and receive. Listen intently when you're inclined to offer advice. Be a humble earth source rather than a lofty ego-inspired person."
How do I get involved?
You do not need to sign-up, pre-register or pay membership fees. All you have to do is join a class at Toivo, practice qigong and connect with others to be part of the Valley Qigong community.